Hey les gens, quelques news from prepignan city south of france, near the sea. Donc voici tout d'abord la première réalisation du team SAEN competition. Au départ je devais faire le rallye du vallespir, mais un deuxième projet sur lequel nous avons travaillé avec mon frère (et que je présenterai plus tard) nous occupera pour la même date. En effet nous avons monté un deuxième véhicule qui doit faire l'ouverture du championnat de france (si tout va bien car la liste d'attente pour les inscriptions est longue) de course de côte. Mais j'en reparlerai ultérieurement. Sinon pour les nouvelles je passe un CAP de mécanique pour Juin 2012 (j'espère l'avoir) et travaille sur plusieurs projets en ce moment. Je vous tiendrai au courant au fur et au moulin.
Pleins de Poutoux, Michael.
Bon alors on a trouvé un bar pour boire a paris… On a appris que tu venais nous rejoindre dans la capitale… Et au faite bonne annee!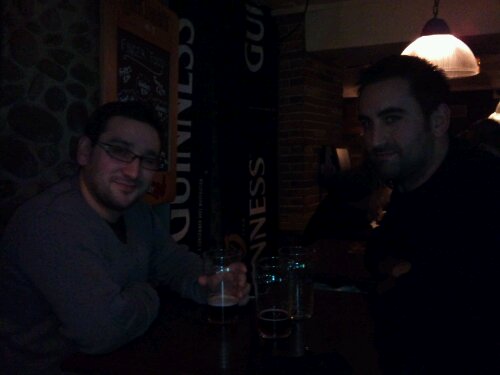 Vous rappelez vous que j'avais postulé pour une bourse Marie Curie (version International Outgoing Fellowship) pour continuer ici aux US quelques temps?
He bah, ho joie ho bonheurs que je suis officiellement "recommandé pour financement"!!! C'est a dire qu'après 2-3 mois de paperasse administrative européennes, je serai un Marie Curie Fellow
Première conséquence, la plus directe et grave: je vais rester 2 ans de plus loin de vous tous! Aie ça fait mal
Autres conséquences annexes: j'ai un salaire et un peu de fonctionnement pour 2 ans encore ici, puis je rentre en France avec salaire pour 1 an! Je serai alors accueilli par le labo Ingénierie des Matériaux Polymères a Lyon.
Ça me laissera un an pour construire un projet professionnel (enfin?) en participant a des concours, ou en m'engageant sur une autres voie.
Voilu les derneires news
Kevin est "occupé" avec valie… Mika est a Perpignan et les deux autres sur un autre continent… Du coup j'ai trouvé des nouveaux amis pour boire des bières!

Cyanide & Happiness @ Explosm.net
Bon alors c'est pas vraiment sympa et tout, mais en lisant les commentaires sur une page du monde, j'ai trouvé un post, qui se voulait bien écrit, mais c'était lourd et bizarre, et plein de fautes.
Le gars, tu m'crois tu m'crois pas, il laisse l'adresse de son blog. Je partage ça avec vous:
http://poullotfrancois.free.fr/index.php
allez voir la gallerie, et la page du monde:
http://passeurdesciences.blog.lemonde.fr/2011/12/05/tueriez-vous-une-personne-pour-en-sauver-cinq/
Enjoy